Flamingo Land Zoo is pleased to announce its animal-based course for young people aged 15 - 17 years old. The course will run over 6 sessions from 9.00am - 4.30pm, including theory sessions on working with different exotic species as well as over 20 hours of practical experience with a range of zoo animals including invertebrates, reptiles, primates and large mammals.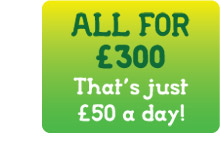 The course is designed for those who wish to pursue a career with animals and require practical experience to enhance their application. Those who wish to become vets, vet nurses, zookeepers or complete other animal-based studies will benefit from this exciting new course.
The course is made up both theory and practical sessions. The theory sessions will focus on the animal groups the students will be working with during the course. Elements such as anatomy, classification, behaviour, nutrition, handling and restraint will be covered.
Supported at all times by our education team, students complete an evidence portfolio of their work, a certificate of completion and a written reference.
On the final day of the course, family and friends of the students are invited to attend Flamingo Land Zoo Academy Graduation. One of our senior animal department staff will present certificates and there will be a short presentation about the course. Two complimentary zoo tickets will be given to each student so that family and friends can gain free entry on the graduation day. Additional friends and family can attend the graduation, but they must pay the full admission price.
Each course is priced at £300 per person. This price includes a complimentary family zoo ticket that can be used on graduation day to allow family/friends to come and support you.
Interested? Next steps…
For an application pack contact This email address is being protected from spambots. You need JavaScript enabled to view it.
Fill in the application form and parent consent form and return them via email or by post. Please email This email address is being protected from spambots. You need JavaScript enabled to view it. or telephone 01653 668287 (ext 225), if you have questions or queries regarding any aspect of the Zoo Keeper Academy and the application process.
2013 Programme

28th October - 2nd November

From 9:00am - 4:30pm Daily