Flamingo Land wins sponsorship of Scarborough's new football stadium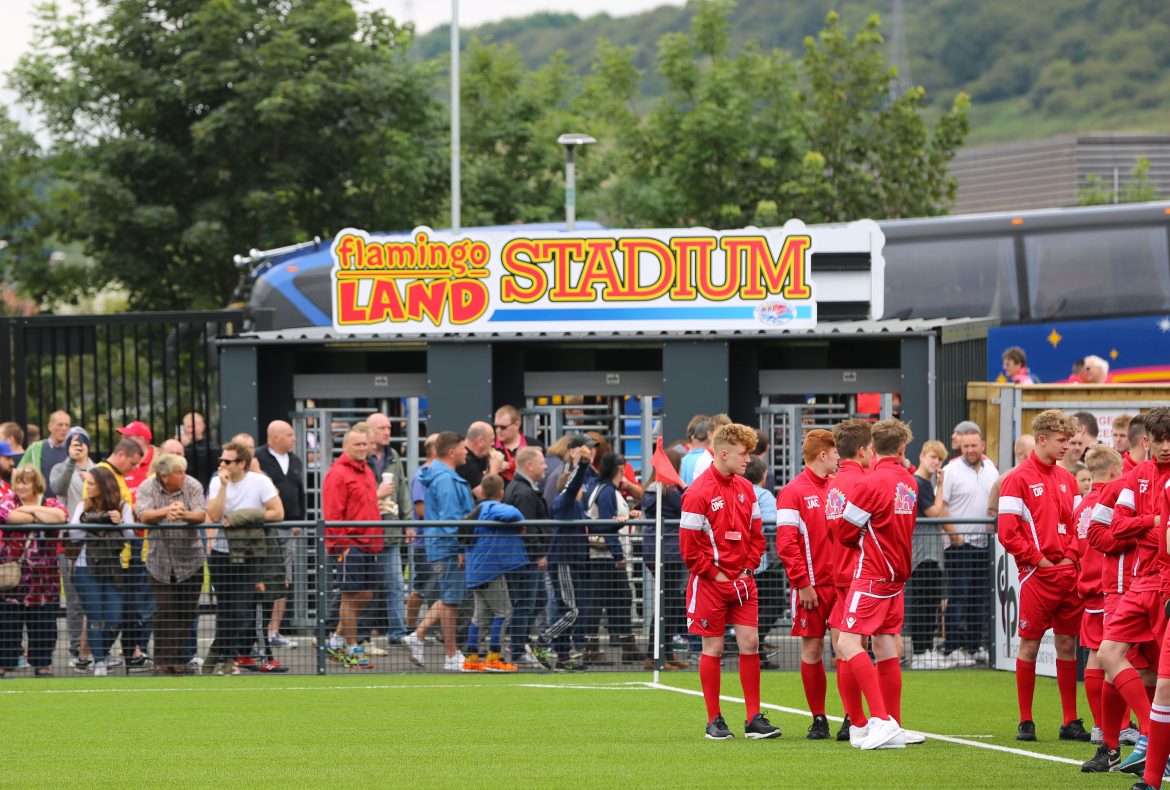 Flamingo Land is delighted to announce that it has become the first sponsor of the brand new community football stadium at Scarborough Sports Village.
The fantastic new facility will now be known as Flamingo Land Stadium, with the intention of changing the name to Flamingo Land Coast Stadium when the company opens its planned new attraction on Scarborough South Bay.
Flamingo Land became the stadium's new sponsor after a six figure sum and five years contract was accepted by the council following a bidding process, which also attracted significant interest from a large number of other local and regional organisations.
The stadium will become the new home of Scarborough Athletic Football Club (SAFC) and Scarborough Ladies Football Club and will also be used for community football at all levels. The sponsorship funds will be directly ploughed into the operation of the stadium and potential future development.
Flamingo Land is pulling out all the stops to get the Flamingo Land Stadium branding ready for the homecoming game of SAFC on Saturday 15 July, when the team will play in Scarborough for the first time in ten years.
Gordon Gibb, CEO at Flamingo Land Resort Yorkshire said:
"Football has always been intertwined with our history at Flamingo Land and we view SAFC's return to Scarborough as being 'a dream come true' that we are delighted to support. We hope that our sponsorship reflects our commitment to the development of grassroots football and that we are passionate about the ongoing regeneration of Scarborough; a town that is very much 'on the up'.
"We look forward to working with the SAFC team in the coming years to help them realise their ambitions for the stadium, club and the local community."
Trevor Bull, Chairman of Scarborough Athletic Football Club said:
"The announcement is fantastic news and marks the start of another exciting chapter for football in Scarborough. We're very much looking forward to working with Flamingo Land on our joint ambitions for the stadium, club and community and we can't wait to see the stadium's new signage in place at our homecoming game later this month."
Flamingo Land sponsored Scarborough Football Club in the 80s and 90s
Flamingo Land sponsored both Hull FC and Middlesbrough FC when they were promoted to the Premier League in the 2015/16 season.
Flamingo Land has also sponsored Leeds United Academy.
The Gibb's still own Valley Parade stadium, the home of Bradford City FC.
Gordon Gibb's father Robert was owner of Hamilton Academicals for 30 years.
Flamingo Land is at an advanced stage in planning a new 'world class' visitor attraction in Scarborough.