Discover what Matt Brash really thinks of Flamingo Land's Zoo…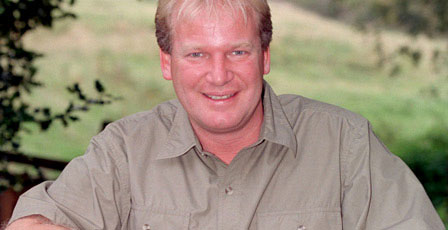 Over the years Flamingo Land has featured in a variety TV shows, but to many the 'Zoo Vet at Large' series has been responsible for raising awareness of the Theme Park & Zoo nationwide.
Featuring Matt Brash, our long-serving zoo vet, the programme has seen the man regarded as a James Herriot for the 21st Century deal with a multitude of exotic patients including a depressed iguana, frisky lemurs and a mischievous meerkat… plus many, many more.
After qualifying at the Royal Vetinary College in 1987, Matt worked in Winchester for three years before moving to Yorkshire in 1990. Beginning work at a practice in Malton, he was immediately offered responsibility for Flamingo Land's collection of wild animals, reptiles and birds. Without previous experience of many of the Zoo's inhabitants, he rose to the challenge. Taking the honest approach on his first visit nearly two decades ago, Matt still fondly remembers all the help and advice provided by the then Head Keeper Neville and his team. "Reflecting on those early days, things were so much simpler back then, with far fewer species than the current collection. However, I quickly discovered that zoos have a well established network that allows information to be shared, and there are probably still some people left I need to thank."
After all he's been through Matt still believes being a zoo vet is one job that's hard to beat. "Every visit I have a long list of planned work, but that instantly changes on arrival. It's an extraordinary experience, you just never know quite what you're going to be faced with! My job can never be called mundane, there are amazing moments like seeing a giraffe or tapir born. They're up on their feet so quickly it's unbelievable and I always feel privileged to be there. One Christmas Eve I'll never forget being called out to attend the birth of a dolphin. I was astounded to watch the mother swimming below her baby, holding it up to the surface until it learned to breathe. What a fantastic start to Christmas Day!"
"However, there are downsides. With modern vaccines, good diets, excellent care and simply no predators, zoo life means my patients live so much longer. Old age then becomes a real problem, introducing issues such as protecting against arthritis. When I arrive you can see the animals all hate me, it almost feels like they're conspiring to see who can bite me first. But I'm the one who has to take the difficult decision of when there's no quality of life left and it's time to put one of animals to sleep. The keepers are all incredibly professional, but they get so close to every creature they care for, which makes it even more heartbreaking. It's a real challenge, but whatever happens I have to maintain my independence."
On a lighter note summer is Matt's favourite time of year at the zoo, with so many animals giving birth. "The biggest success story so far this year is our baby oryx. These creatures are so endangered and it's been tough for all zoos to try and raise infants in captivity. I'm also really excited to see the new penguin facility opening. The amount of research and development it's taken has been colossal, but as the biggest and best new penguin pool in the UK, I know it'll be well worth the wait!" In Matt's opinion Flamingo Land has one of the top zoos in the country, a high accreditation from a man who also works as one of the government's zoo inspectors. "In 2009 the zoo was awarded high accreditation accompanied by a raft of very positive comments. It's something we're all very proud of and we'll continue to do everything we can to see that standards of care continue to rise."
We hope you'll continue to enjoy the exploits of Matt Brash during the fourth series of 'Zoo Vet at Large' and that you'll have time to meet many of the featured animals and their friends for yourself soon.