Flamingo Land becomes "Bongo Land"
To celebrate Flamingo Land's long-term involvement in the conservation of tropical forests in Tanzania, this Saturday (July 10th) will see Flamingo Land's first official "Tanzania Day". Events on the day will include Tanzanian music, dancing, painting and games.
There will even be an opportunity to get up close and personal with some of our African animals and animal artefacts, and to experience Tanzanian culture, from daily living to brightly coloured clothes.
The "Bongo Warriors", Flamingo Land's acrobats and dancers from Tanzania, will also be on hand to teach their Swahili moves and maybe a few Swahili words. Flamingo Land's acrobats named themselves the Bongo warriors after the Swahili word for "brain". The word is also a nickname for a streetwise person from Tanzania's largest city, Dar es Salaam, and "Bongo Land" is even sometimes used as an affectionate nickname for Tanzania.
Next week Flamingo Land's Director of Conservation Science Dr. Andy Marshall will be travelling to Tanzania for two months of fieldwork in the Tanzanian jungles. He said: "Flamingo Land's Udzungwa Forest Project is helping hundreds of African school children to learn about the importance of forests and is carrying out ecological surveys of rare animals and plants."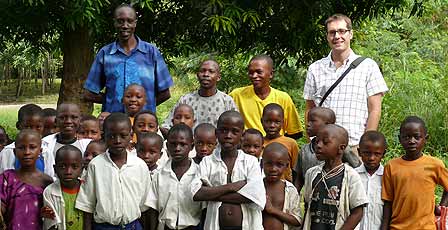 The Udzungwa Forest Project is part of a new collaboration between Flamingo Land and the University of York.
The collaboration will also see the development of a new research institute (CIRCLE: Collaboration for Integrated Research, Conservation and Learning) that will open in the park in October.
The conservation project made headline news in 2009 following the discovery of a new species of chameleon in the mouth of a snake.
Karibuni wote! (Swahili for "you are all very welcome")