It's official, we're record breakers!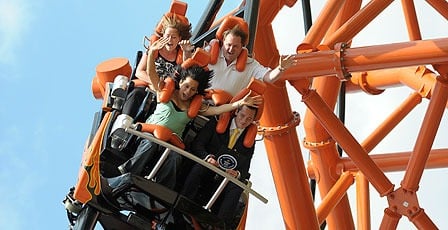 After months of hard work, Saturday 4th July finally saw Mumbo Jumbo ready for its first official ride. On this bright summer's morning, resplendent in its gleaming black and orange paintwork, Flamingo Land's latest and greatest ride proved a powerful draw for hundreds of excited roller coaster fans and adrenaline junkies from across the UK and beyond.
As invited guests and competition winners from the Galaxy Network, Scarborough Evening News and the Ryedale Mercury enjoyed a champagne reception, DJ Sacha Brooks and Anna Burnsides from The Sunday Times prepared for the trip of their lives under the watchful eye of Carl Saville, the official adjudicator from Guinness World Records. Accompanied by screams of fear mixed with shrieks of laughter, our inaugural riders experienced the most extreme drop in roller coaster history, followed by a host of twists, spins and turns. Finally, as the car pulled into the station and returned to a precise halt, Gordon Gibb, Flamingo Land's Chief Executive, proudly received official confirmation that the park & zoo's latest attraction was now in the World Record book. Delighted, Mr Gibb immediately turned his attention to ensuring the hundreds of excited fans patiently waiting their turn would soon be able to ride Mumbo Jumbo.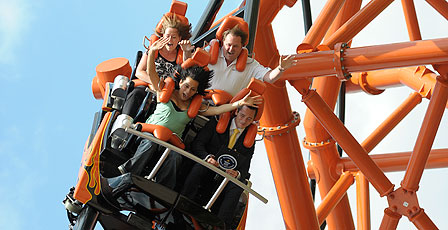 After organising a trip for 200 members from The Roller Coaster Club of Great Britain, Chairman Andy Hine commented that Mumbo Jumbo "…does everything a good coaster should… All you want to do is go back on again!" whilst Peter Leslie from The Ride Guide believes it "…reaches a new pinnacle for the park". BBC Look North's Cathy Killick also experienced the ride's awesome power, you can find out what she thought here.
So, if you haven't joined the thousands of excited fans who've already been part of this sensational World Record success, we hope to see you very soon!