Updated Keeper Talk Times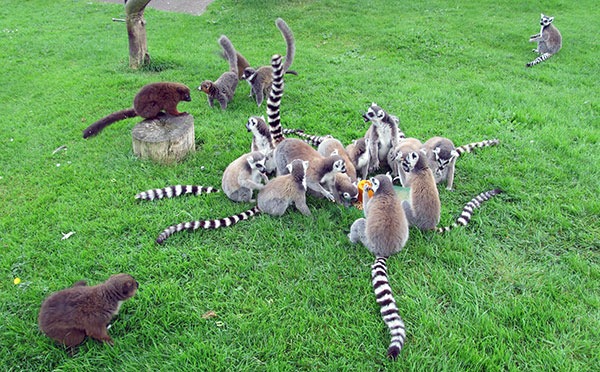 On Saturday we started our summer season, this means that the park is now open later and that we have even more activities for you to enjoy. We have moved our talk times around to help visitors see even more animals and attend more events.
Our lemur talk is now at 11:30 straight after our lemur encounter. This means it is the first talk of the day and is a great chance to see the lemurs up close. Our lemur walk-through is open from 11:00 allowing you to go in with our lemurs.
We have three types of lemur at Flamingo Land, ring tails, mongoose and red-bellied. Ring tailed lemurs are highly recognisable with their characteristic stripy tails. Our dominant female is called Ruth and she bosses the group around. Other individuals include Rainbow who finds the public very interesting and Wotsit who has very definite eyebrows. Our mongoose lemur are a smaller grey lemur with white fur around their cheeks. We have a family group with mum Geraldine, dad Geoff and son Benji. Our red-bellied lemurs look a little like teddy bears as they have very expressive eyes and are incredibly fluffy. Red bellied lemurs are named after the fox red fur on the males chest, however, here at Flamingo Land we only have females so our red-bellied lemur actually have grey-bellies.
Our tiger talk and feed has now moved to 13:30. This is to allow visitors to enjoy both the bird and sea lion shows without missing out on watching the tigers have their dinner. Our cub Menya is around 7 months old and is now very confident. Each day she has her dinner out in the main enclosure with mum and dad so you can see the whole family feeding.
We have added a new Lorikeet talk into the day. This takes the form of a question and answer session with the lorikeet keepers. Our lorikeet aviary is down at the bottom of the park. Visitors can have a go at feeding the lorikeets by buying a pot of nectar. Lorikeets are nectar eating birds and have a special brush-like tongue to help them to do this. They are a highly social bird and are always vocalising to each other, making this area a very noisy place to be. The lorikeets are just one of the bird species which are currently nesting so we hope the flock will be joined by some smaller members very soon.
Our popular Meet a Creature sessions have moved to their summer time of 15:00. These sessions allow visitors to meet some of the animals used in our education sessions such as our corn snakes Fred and Jasper, our tarantula Tallulah and our tenrecs Bruno and Raymond. The Education team are currently preparing for their summer of wildlife activities including moth and bat walks which will be open to local residents as well as day visitors.
As well as the talks mentioned above we have talks on our penguins, baboons, and hippo. This year we additionally have a Peter Rabbit show which visitors can book onto. During the Easter period the education centre are running an Easter trail for visitors.
We look forward to telling you more about the zoo antics and revealing some of our latest arrivals.